Let's Just be Friends, cont. Bloomberg finds the upside to the recent condo crash in Miami: cheap luxury for youngsters. Plus, Christopher Leinberger relays a debate he had with Joel Kotkin, smart growth dissident, on how walking isn't just for cities.
Walking the Walk In response to the cheerful chatter over NYC's bus rapid transit plan, Matt Yglesias argues that buses should complement, not replace, rail building, especially when the goal is to spur transit oriented development.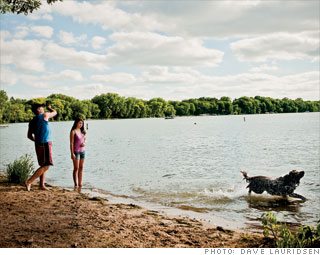 One Step Closer to Reality, cont. Looks like Senate Majority Leader Harry Reid has pulled together the 60 votes needed to pass Wall Street reform. Here's a refresher on what the bill could mean for the housing market.
Hometown Plug Families in Minnesota face some serious issues when it comes to "cost of place" (we'll have more on that for you tomorrow). But the state is home to the number one small city in the nation, according to Money Magazine.
Photo: Youngsters celebrating summer in Eden Prairie, MN (from money.cnn.com)